AI-driven Platform for Competitive Intelligence and Market Trends Analysis of Used Car Ads
Business Problem
Used cars are the second-hand vehicles that are available for resale.
The used car market across the world is growing rapidly. It was valued at $828.24 billion in 2019, and is projected to reach $1,355.15 billion by 2027, to register a CAGR of 8.3% from 2020 to 2027.
Today, the growing power of online infrastructure and digitalization, is more and more expanding the used cars market allover the world.
Used Cars buyers, sellers and dealers are often confronted with the challenge of making the right decision from the multitude of car ads and opportunities coming from the different online platforms and websites.
CarAdsBot®
CarAdsBot® is an AI-powered platform for competitive intelligence and market trends analysis of used car ads. It continuously and automatically extracts a significantly huge number of ads from all geographical regions. Based on them, it captures and attains enough knowledge and intelligence to guide people to take the optimal and informed decisions upon buying or selling their cars.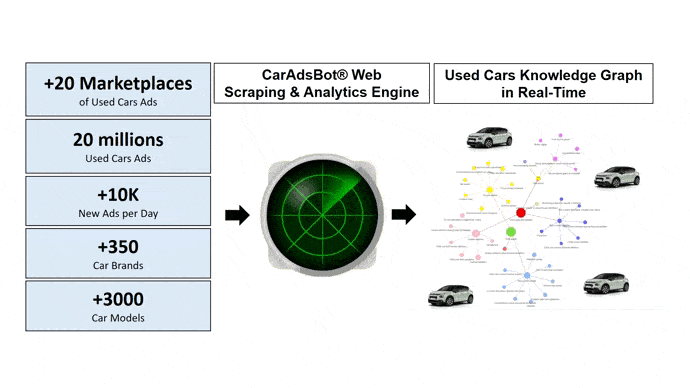 Features
Real-Time Advanced Search
Real-Time Statistics
Graphs & Dashboards
Opportunity Scoring
Similarity Scoring
Intelligent Cars Pricing
Real-Time Price Tracking
High-upside opportunity Spotting
Please follow and like us: